Today's blog is a bit different from our regular tapping/relationship broadcast, but I am sooooo very excited for today's episode, as you are in for a treat.
I am very honored to introduce you to the amazing Stasha Washburn, a period coach, an incredible leader and the author of "The Revolution Will be Bloody." I have followed her work for a few years now and wanted to introduce her to you for a while now.
In today's conversation, we talked about many tabu topics, like menstruation, foreplay, how to navigate our periods with ease and, of course, when it's time for you to nap (vs tap).
This adds a whole new layer and depth of understanding of our bodies, the way we navigate through the moon and period cycle during the month and how to deal with all the emotional intensity that comes with the heap of hormones we women deal with on a monthly basis.
For me, this discovery was eye-opening, as most of the fights I pick up with Ernie are in my so-called "PMS" time of the month. I am so very grateful for Stasha for helping me understand and communicate the changes in my body and moods with my partner.
And, yes, sometimes it means taking two naps a day and sometimes it's me telling Ernie: "Today, I just want you to bring me a glass of red wine and some dark chocolate. And then… walk away."
So, if you are ready for less of an emotional rollercoaster at "that time of the month" ( or any day of the month) and more ease and wisdom, this interview is for you.
Click here to watch the interview.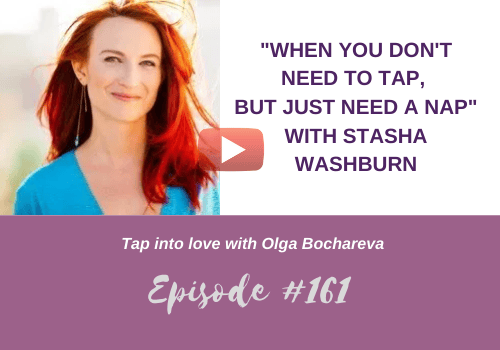 To learn more about Stasha and the incredible work she does, click here: https://theperiodcoach.com/
---
WOULD YOU LIKE MY SUPPORT TO WORK ON YOUR RELATIONSHIPS AND OVERCOME LOVE BLOCKS?
The truth is, this could be a PERFECT time to go within and heal your relationship blocks. Remember 80% of your love life journey does not even involve man. The majority of this work has to do with addressing your inner fears, limiting beliefs and blocks around love.
This way, a few months down the road, when life is back to normal, you can manifest the right partner into your life quickly and with ease. You don't have to do it alone. If attracting your soulmate is on your list, and you have some extra time on your hands, let's work together to make it happen.
Learn how I help women find love here and book a FREE 30-min consult here.
All my love,
Olga.
P.P.S. For the month of April I am hosting free group tapping sessions every Wednesday on my FB page. Join me here next Wednesday at 10.00 A.M. CST. Together we can get through this uneasy time. Pop it onto your calendar now, so you don't forget.