Happy Valentine's Day!
I love this day and have celebrated it whether I was single or in a relationship. Although, in our society, I believe we have a HUGE misunderstanding about what it means to be "in love." It's largely believed that the state of " being in love" is a function of having another person in your life to share it with.
I respectfully disagree.
The truth is,
Being in love is a state of mind. You are always in love. Love is who you TRULY are underneath limiting beliefs, fears and misconceptions.
If you accept this simple truth, you can never fall out of love, no one can really "break your heart" and you are free to love, with an open heart without EVER being hurt again.
With that said, lets celebrate this state today.
Below are a few pictures from Me + Ernie Valentine's Day Celebration. This morning I woke up to a beautiful gift with flowers, candies, card and some red wine (I am pretty classic girl and easy to please when it come to Valentine's gifts). Earlier in the week we went to a Ukranian fusion restaurant, thus the picture of the cabbage leaf rolls (they were delish). They were almost like my mom used to make them when I was little.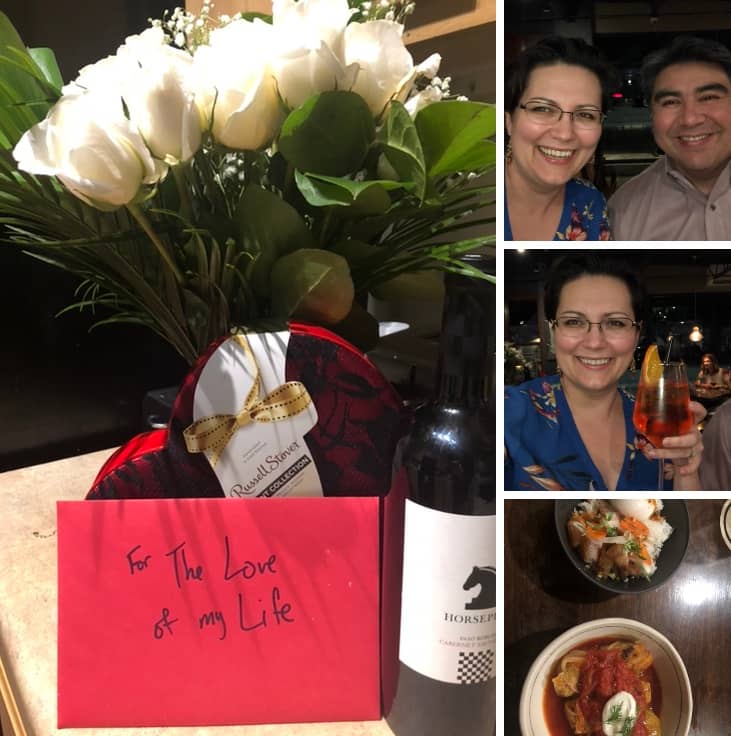 Lately, in my private FB group: Tap into your best relationship we've been talking a lot about dating.
So, today I wanted to answer one of the questions that came up this week (paraphrasing):
"Sooo, Olga, I've started dating and thanks to you now I can identify between triggers and red flags. My question is: how do I know if the guy/relationship has potential? I know there is probably no such thing as love at first sight. But now I wonder how would I know if this guy is worth a second/third date?"
I have so much to say on this topic, so I jumped in to make a quick video and shared 4 things, that might be helpful in your dating journey to both save you from headache or from dating a jerk, and they can allow you to sort through your dates to find "your" guy quicker.
When I went back to dating back in 2017, I remember opening my online dating profile in March, and in May I already met Ernie (my husband now): for the total of less than 2 months of dating. I was able to sort through the "unworthy" candidates pretty quickly.
In the span of about 8 weeks of my dating experiment I met a total of 7 guys. But only 2 of them got to go on a second date with me, as I knew pretty early on if it was a go or no-go.
In the video below, I share what helped me shorten the dating journey to a mere few weeks.
In this video you'll learn:
Why getting clear on what you want in love will fast track your dating journey
How to tune in to your body wisdom to know if he is the one (or even worth a chance)
What does it mean to "sit back and enjoy the ride" when it comes to dating
How to have the awkward "sooo, where are we in this relationship…." conversation
Watch this 5 minute video to help you understand
Once you watch the video, hit reply and let me know what are some of your biggest challenges in the early dating stages? I will get back with an insight or even make a video just for you to help you sort through this.
Can't wait to help you tap into your best relationship yet!!
All my love,
Olga.
P.S. I am quietly opening registration for my brand new webinar: "Dating for Conscious Women in a Modern World: How to NEVER fall in love with a jerk again". If you are ready to attract a conscious man (without having to go on a ton of dates) who matches your ability to give and receive love, join me for the FREE webinar here.