Let's face it, breakups are never easy. And they seem even more difficult in times of crisis.
BUT.
There is a way to let go of someone, who is no longer aligned with you AND to do it in a way that is less painful for both parties.
The conversation on break ups, aka ending your relationship, has come up more than once with my clients in the last 2 months. Today we'll talk about how to part ways in a conscious and kind way, so that you don't have that bitter aftertaste, feelings of guilt, or any lingering uncertainty.
As a matter of fact, we had a tapping session with one of my amazing clients on this topic recently. She knew that the man she met was not a good fit. She was also afraid that he would not take the news well and would be rude, upset or resentful if she would have shared it with him honestly. We tapped on the feelings of guilt, worry and possible anger from him and designed a conversation that felt both aligned and clear.
And a few days later, she wrote to me to share that hers had been a very civil, mature and kind conversation. She felt like she had actually had a peaceful and mindful break up.
Watch the video below for the exact steps I took my client through on how to go through the break up process with less stress and more ease.
How to handle BREAK UP mindfully and peacefully (yes, its possible)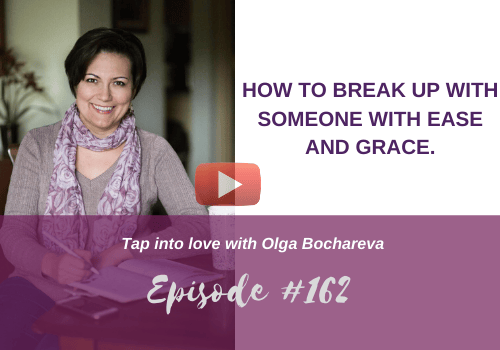 ---
Ready for the next step? Here is how I can support you moving forward:
LETS FACE IT: THE DATING WORLD HAVE CHANGED.
You cant go on dates right now. BUT. You can start attracting your ideal partner. NOW could be a PERFECT time to go within and heal your love blocks. Remember, 80% of your success in love has to do with your inner fears and relationships limiting beliefs.
If you want to improve the quality of man you attract AND no longer sabotage your relationship, you need to release your unhelpful beliefs and patters now.
Learn how I help women find love here and book a FREE 30-min consult here.
All my love,
Olga.