If you've been in a codependent relationship, you know the pain of not being heard, understood or supported.
But many women that I work with don't even know that they are in a codependent relationship or what are the signs of one.
So what's the difference, you may ask?
In a codependent relationship, one partner often relies on the other to "make them happy", which results in excessive care-taking and people-pleasing. Someone who is codependent typically has good intentions in sacrificing their needs for others, but this sense of responsibility for their partner's emotions and behaviors ends up being more harmful than helpful. Problems are often being swept under the rugs and unresolved issues linger for years.
In a co-creative/healthy relationship, both partners take responsibility for their own feelings, issues and needs. They communicate them openly and find solutions that are a win-win for both. They have an attitude: we are in this together and we can figure it out. They are supportive of each other, even when they don't have the same interests. And there is a healthy flow of giving and receiving into their interactions. They have fights and arguments but are also determined to resolve it with as little drama as possible.
Below is a great visual from Reflection Counseling to help you understand the key points in both (You can also read the full article on Codependency in Relationship here).
Codependent vs Healthy/Co-creative Relationship
To determine how healthy your relationships are (past or present) ask yourself these questions:
How co-creative are my relationships? (both with my partner and others)
Am I able to communicate my needs and emotions (or do I feel shut down when I attempt)?
Do you feel your partner is trying to control you and the decisions you make (or is he being genuinely supportive)?
Do you suppress or change yourself just to please your partner (or do you both have an attitude to learn and grow)?
Here is a video I made about 3 years ago when someone in my community asked me about getting over a codependent relationship. I've never shared it with you, until now, but it's been so popular on Facebook, that I wanted to make sure you can get your hands on it, too.
In this impromptu video, we talk about codependent relationships vs. co-creative relationships, how to free yourself from it, followed by a tapping round to change the pattern on a deeper level. Tap along. It's your time to move on and be happy.
How to get over a CODEPENDENT relationship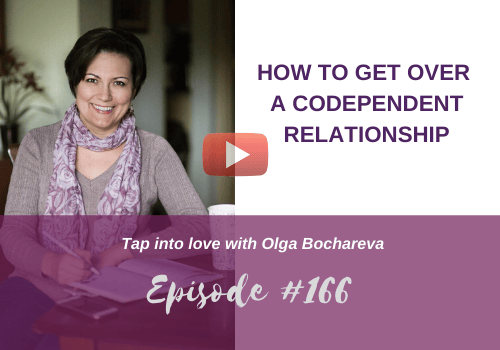 ---
NEW OFFER: GET OVER YOUR EX IN 30 DAYS
The dating world has changed.
You can't go on dates now, but you can start attracting your ideal partner. If you want to improve the quality of the man you attract, you need to release your unhelpful emotional baggage now.
As I looked over the list of amazing women I worked with over the last 3 years, one common denominator popped up: They all came to me to help heal a broken heart.
I am also amazed at how quickly they were able to move on past something that potentially could poison their life for years. This is exactly why I've created this offer.
If you are no longer available to stay stuck and would like my help in move past a breakup, grab my "Get over your ex in 30 days offer".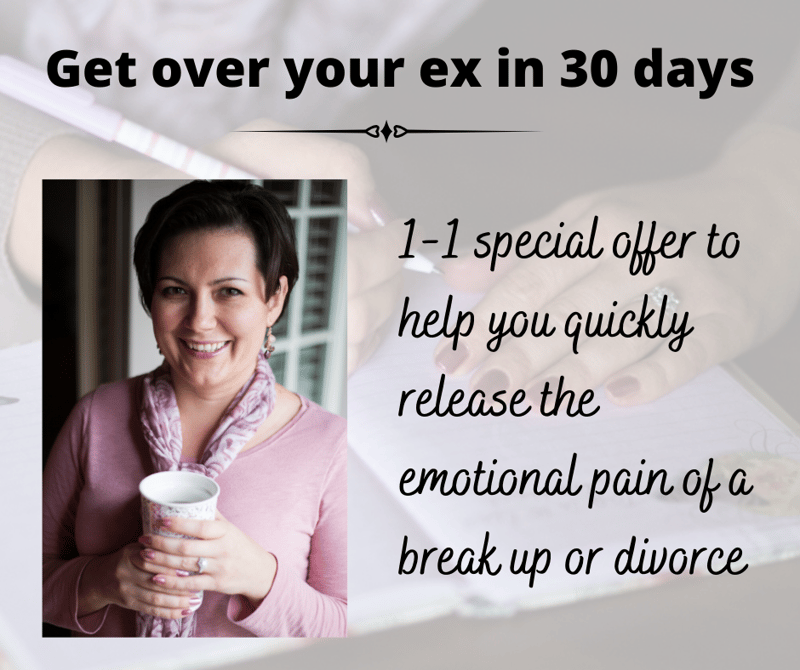 This week my offer is a "Get over your ex in one month" 1-1 VIP package with me in which we will:
Release the emotional pain of a recent or past divorce/separation

Address any triggers or fears about your life moving forward

Uncover and start releasing any limiting beliefs behind the "not good enough" feeling
It's normally $497 USD for this, but for the first 5 women, its $347 USD only.
All my love,
Olga.
P.S. Want to stay in touch with me on social media? Subscribe to My YouTube Channel here or join our FREE Facebook group Tap into your best relationships here for additional updates and tips.