"To forgive simply means to give up any hope that the past could have been any different." ~ Oprah
If you've ever been in an intimate relationship, chances are, you have been hurt.
As we get close to someone, get intimate, our inner world becomes more visible and old unhealed wounds resurface.
BUT
In our society we have a great misconception about healing and holding on to the past. Many of us believe (consciously or subconsciously) that our fears protect us. In reality, they attract the same patterns over and over.
If you are having a hard time forgiving someone (or thinking that they do no deserve forgiveness), consider this:
Forgiveness is not about the other person at all. It just releases YOU from the memory.
You do the forgiveness work for YOURSELF, to free yourself from the burden of carrying old memories and resentments.
It doesn't mean it wasn't a bad experience.
It doesn't mean that they were right and you were wrong.
It doesn't mean you should not be upset about it.
It does mean: You are choosing to release it, so you no longer have to carry it.
When it comes to relationships, forgiveness works magic, and it's honestly the best form of energetic decluttering.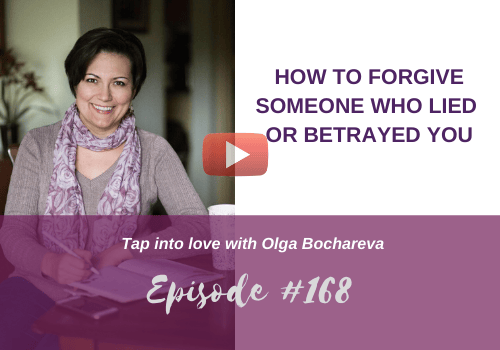 Here is what to do next:
Share your insights + questions in our free private Facebook Group: "Relationship and Dating Support for Conscious women"
Got resistance? Questions? Well, we are here to help, just use #helpanyday or #question and we'll jump in to support and get you unstuck.
_________________________________________________________________
If you'd like my help with moving past hurt and tapping into forgiveness when it comes to your ex, I have an offer just for you:
Are you feeling enraged and angry by your ex-partner's actions and/or words?
What if I told you that in less than a month you'll be able to look back at it and feel not only neutral but grateful for that experience?
This week my offer is a "Get over your ex in one month" 1-1 VIP package with me in which we will:
Release the emotional pain of recent or past divorce/separation
Address any triggers or fears about your life moving forward
Uncover and get clear on how to release any limiting beliefs around feeling "not good enough"
It's normally $497 USD, but this week for the first 3 women, its $347 USD only.
To learn more, use this link to find out all you need and sign up for the offer. And of course, feel free to reach out, if you want to discuss whether it's the right fit for you.
All my love,
Olga.
P.S. Did you know that I have a "Tap into Love" Youtube channel dedicated to helping women just like you find love (even after a bad divorce or a painful break up).
Check out 160+ tapping/coaching videos on everything from dating, how to get over a heartbreak to healing rejection patterns and feeling more confident in love and life. Here is the link to access the videos and subscribe.