Today we are talking about "Forgiveness vs. justice". I recorded this video a couple of years ago and it's been a hit on my FB page (almost 2,000 views organically), but I've just loaded it up to my Youtube channel for those of you who are not on Facebook.
This thing with resentment (the opposite of forgiveness) is a major energy leak. And even though many of us desire justice, by holding on to past hurts we are only hurting ourselves. Plus, according to the VERY BASIC Law of Attraction:
What you give others comes back to you 10X multiplied.
Or, the way Robert Smith likes to say: "There is no "other person" in your mind. It's just you doing it to you".
Here are my personal top 3 reasons to make forgiveness the highest top priority for me:
Resentment = major energy leak. In the video, I explain how it takes away from your creativity, productivity and happiness.
Unforgiveness makes us relive unpleasant memories, creating more drama in the present.
Unforgiveness brings on what we DON'T want in our lives, since that where our subconscious focus is.
Watch the video below where I explain how resentment affects your love and biz life and lead you through a powerful tapping round to help you leave the past in the past.
So, if you are dealing with a feeling of resentment, fear or unforgiveness in your life toward your ex, neighbor, a family member, friend or a colleague, tune in to the video below.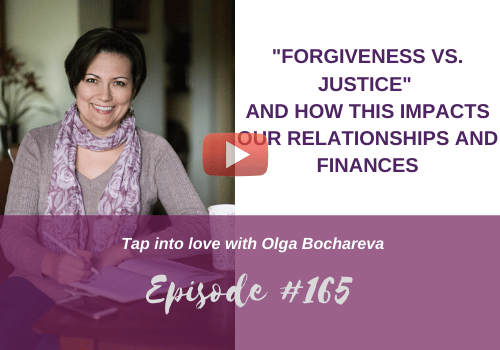 If you would like my help to get over past hurts for good and set a strong foundation for a healthy relationship, I am very excited to announce a brand new offer:
"GET OVER YOUR EX IN 30 DAYS"
It's a 1-1 VIP offer to work with me for 1 month and it's designed to help you heal the pain of past (or recent) break up or divorce. More details coming next week, but if you are ready now, just hit reply and I'll send you the details through.
All my love,

Olga.
P. S. Did you know that I have a FREE private Facebook group "Tap into your best relationships"? It's the best place to pick my brain, as well as connect with other like-minded conscious women! This is where I share my favorite resources and behind the scenes daily on how to attract loving and lasting intimate relationships. If you are not a part of this amazing community join us here.