In both relationships and your physical space strive to keep only what brings you joy.
Have you read the "Life-changing magic of tidying up" by Marie Condo yet? Right now I am re-listening to this book for at least 4th time around, as we are getting ready to move to a new house.
First time I read it was in 2016. The following year I got rid of 80% of all of my belongings and I went through a divorce. Only 6 months later I started dating and met a great man, who proposed a year after our first date.
Energetic, relationship and physical decluttering go hand in hand.
If you are working on manifesting a right for your partner, let's start with an audit of your relationships.
Are you surrounded by people who bring you joy? Or do you constantly finding yourself in conflict, stress, and arguments?
Remember, you become an average of 5 people you most often associate yourself with.
People who add problems to your life (vs value) are also known as poisonous playmates or crazymakers, a term I first learned from Julia Cameron in "The Artist's Way".
Crazymakers are the type of people who LOVE to create drama. Everyone around them acts like a supporting cast. You know that type: charismatic, but out of control, long on problems, but short on solutions; they kind of blame you artfully, and it's NEVER their fault.
Can you recognize this in anyone around you?
Crazymakers break deals and destroy schedules
Crazymakers expect special treatment
Crazymakers discount your reality
Crazymakers spend your time and money
Crazymakers triangle those they deal with
Crazymakers are expert blamers
Crazymakers create drama, but seldom where they belong
Crazymakers hate schedules, except their own
Crazymakers hate order
Crazymakers deny that they are Crazymakers
By now you are probably wondering if they are that CRAZY what are we doing being involved with them. The answer is simple: for us at times, it's easier to get lost in the drama than look within.
If you are involved with a poisonous playmate, it is very important to start by admitting it.
Watch the video below to help you determine whether the people who surround you add value or take away energy and how to navigate your relationships with them.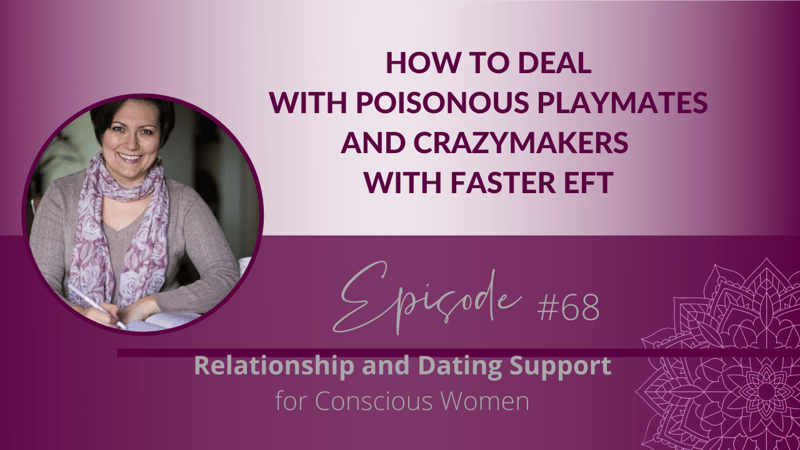 Have you spotted someone in your life who's energy is rather poisonous?
The bottom line, next time you catch yourself saying "He/she is driving me crazy!" Ask yourself, "What limiting belief of mine is this relationship supporting?". As YOU change within, your relationship will naturally transform.
There are over 7 billion people on this planet. If people who surround you don't love, support, or appreciate you, it's ok to let them go. Once you've created the space, you'll attract someone with better values who will.
---
Would you like my help in decluttering your relationships?
My "Get over your ex offer" might help. Even if you are not dealing with an ex, but have someone in your life who triggers you, let's sort this out together.
Imagine feeling at peace and in control of your life. Today is the day to leave the past in the past.
This week my offer is a "Get over your ex in one month" 1-1 VIP package with me in which we will:
Get to the root of your rejection and abandonment partners

Help you learn skills to change how you feel about the breakup fast

Tap into feeling peaceful, productive, and content with your life right now.
It's normally $497 USD for this, but this week I have one more spot left at $347 USD only.
To learn more, use this link to find out all you need and sign up for the offer. And of course, feel free to reach out, if you want to discuss whether it's the right fit for you.
Tap, breathe, be kind to yourself. Remember, you are loved.
Big hug,
Olga.